Support Project for Nana
Throughout the years there's been a lot of misunderstanding and unwarranted h8 for Nana and recently Nana has been getting a lot of attention for her world #2 title and appearances on Style Log and Roommate, unfortunately a lot of that attention happens to be negative. See
https://afterschooldaze.forumotion.com/t390-discussion-who-is-after-school-s-nana-and-why-the-h8-for-her
for more details.
This project is about showing recognition and appreciation for all the things Nana has done, achieved and who she is.

Oh, and who is she?....
So Incredible
...that's pretty much how I feel about her and I'm sure a lot of other fans feels the same way too. I really like that video,
I'm proposing to make that the official video and "So Incredible" the official song for this campaign, if there's no objections then it shall be done. It'll be good is someone could sub that video in Korean(ask permission from swishadragon first though) so we can send it to Nana to let her know how we feel about her....or just send it to her as it is until someone subs it.
Let's tell Nana know how incredible she is

To let Nana know how incredible she is, send her messages via SNS e.g. Twitter, Instagram or in any other way you can think off. The official hashtag for this project is
#LoveNana4Ever
. For those who don't know Korean but what to send message to Nana, try the technique I mentioned with Google translator for the Raina support project
https://afterschooldaze.forumotion.com/t360-suggestion-project-to-let-raina-know-she-still-has-us.
This project officially starts NOW and ends with when your love for Nana ends or at least when you've contributed to this project at least once by sending her a support message.
Hashtag events - Trending #LoveNana4Ever worldwide
To make sure Nana knows how incredible we think she is, lets try to get #LoveNana4Ever trending worldwide on twitter. After this proposal is made, on every Saturday for 3 weeks,  between 1:00 am to 2:00 am KST, let's try to get at least 100 people tweeting with #LoveNana4Ever within any 10 minutes between that time to try and get #LoveNana4Ever trending. Let's try to get people talking about how incredible Nana is or showing off their favourite Nana moments/pics/videos.
Let's show her how proud we are of her for world #2 title
Nana received so much  h8 because of that world #2 title.
http://afterschooldaisuki.tumblr.com/post/80872105391/140325-trans-orange-caramel-at-sbs-mtv-the-show
Hope Song of Noon wrote:
DJ : Nana! What (articles) comment that make you hurt the most?
Nana : All kind of bad comments. But recently, the articles.. the title is always "World's #2 Nana", and I think there are some people who don't like it, and 80%~90% of it are a bad comments. I was hoping I got a support from it because however I'm a korean, and a celebrity, and (world's #2) is a good title. But it's getting harsher lately so I don't really read the replies.
As a Nana fan I really feel that we've let her down. I hope she gets placed #1 this year so we get another chance to do it right this time and try to make sure she gets more support than h8.
Something else we can do is tweet to TC Candler(@tccandler) and show them why Nana deserved to be ranked world #1 for the 2014 world most beautiful faces. Don't forget to use the #LoveNana4Ever hash tags guys.
In episode 9 of Style Log, artist Yum Seung Il painted this picture for Nana because of how nice he found Nana to be. This picture is a symbol of appreciation by Yum Seung Il so I was thinking we fans can send it to Nana with our messages to remind her that feeling of appreciation that Yum Seung Il showed her and to show how proud we are of her title. Note: this picture says "World's 2nd most beautiful woman Nana was here".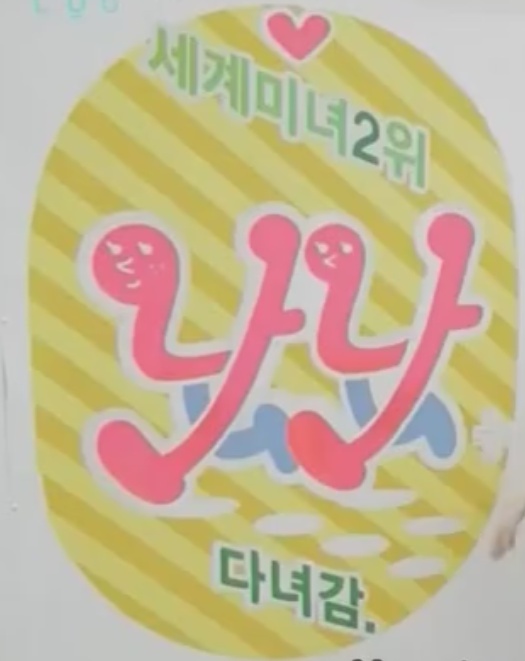 Here's the scenes from Style Log I was talking about.
Here's the Hangul for "
I'm so proud of you
",
나는 당신이 자랑스러워요
if you want to send it to Nana(which I recommend you do).
Get more people interested in Nana
From Nana's appearance in Roommate, I've noticed there's been Black Jacks that's taken interest in Nana...which is great because here's a chance to gain more fans for this fandom and Nana. From what I've seen, it's not too hard to get Black jacks interested in Nana considering how close Nana and Bom are.
...and how much CL likes hugs from Nana.
CL Thinking: You've taken Nana away from me...now I'm all alone  
http://twitpic.com/e7qln8
CL Thinking: Hehe I've just been hugged by Nana 
http://twitpic.com/e7qme6
To help Nana gain more fans please help spread the news about how much Bom and CL likes Nana and feel free to use those gifs to help you.
That's all the ideas I've got for now, if you have any more ideas for how we can let Nana know how incredible she is or to support her please feel free to let us know.

PlayboyzAdam

Fifth Grader




Posts

: 1870


Reputation

: 61


Join date

: 2014-02-01



I'll go share this on other AS threads/forums~

Nana&Kaeun4lyfe

Pre-schooler




Posts

: 61


Reputation

: 3


Join date

: 2014-02-12



---
Permissions in this forum:
You
cannot
reply to topics in this forum