AfterSchoolDaze
wouldn't be half as vibrant without our faithful readers and commenters. Because of that, we've started a new
ASDaze Student Awards
, to feature one such commenter every month!
February
's Student of the Month goes to none other than our first member to reach Second Grader status on the forum:
PlayboyzAdam
.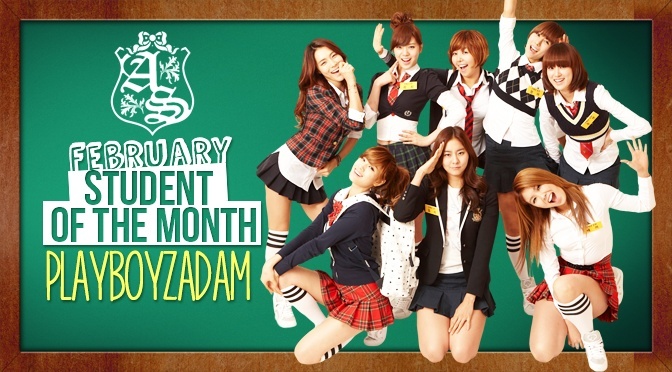 Adam struck us with his enthusiastic and insightful participation on the ASDaze Forums. His quote was also selected for our very first #SONGDAZE. We sat down to find out a bit more about Adam, his bias in After School, and what he likes best about AfterSchoolDaze.
~*~
1. Tell us a bit about yourself! How old are you, where are you from?
I'm turning 28 this year on 22nd May. I'm from Australia but I'm full blood Chinese.
2. How did you get into After School? What did you like about them?
In 2009 I saw a video title Jpop vs Kpop featuring Scandal's Shoujo S vs After School's Ah. That was a very memorable year for me. In that year, I graduate from Uni, got my first job and discovered After School. After School caught my eyes with their unique sexy image. I really like their debute image.
3. Who is your bias, and why do you like her?
Kahi is my ultimate bias. Kahi has many qualities that makes her my ultimate bias e.g. the charisma she exudes, the sincerity I see from her eyes and hear from her voice, her passion for performing and her leadership skills. 2009 was a very stressful year for me but Kahi always managed to lift my spirits when I see her perform.
4. What do you like best about ASDaze, and what can we do to improve?
I like that ASDaze listen to fans request, answer questions and provides After School news in an accurate and timely manner. I think all that ASDaze has done, ASDaze has done right by After School and fans. I like the path that ASDaze is going so I can't think of any improvement ideas for now.
5. What's your favourite section/topic in the forums? What would you recommend to a forum newbie?
My favorite topic is the
Potential Next Leader topic
in the After School Discussion forum. The discussion has revealed different sides of Raina that I don't think some fans have taken notice of yet. I would recommend forum newbies try out the
discussion section
. It's a good way to get to know the other members better, learn more about After School and let's other members know more about you and what you think about After School.
6. Anything else you'd like to say! I think you guys are doing an awesome job, keep up the great work Smile
~*~
For his selection as Student of the Month, Adam wrote up an excellent discussion piece on whether
Kahi is the selfish line hogger some believe her to be
. Pop by the forum and check it out!
Thanks to Adam and every single reader who supports us by keeping up with our updates and donating to ASDaze! We wouldn't be half the fansite without all of you ♥
Look out for March's Student of the Month!

Jayden

Admin




Posts

: 225


Reputation

: 23


Join date

: 2014-01-29



---
Permissions in this forum:
You
cannot
reply to topics in this forum